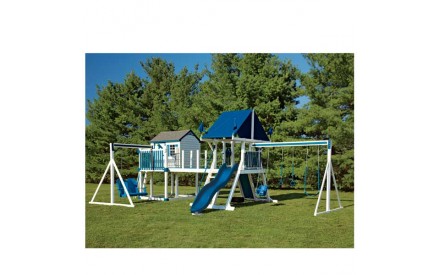 Vinyl Swing Set C8 Bridge Escape by Swing Kingdom - White & Blue
Brand:
Swing Kingdom
Product Code:
C8-wht-blue
Availability:
In Stock
$8,205.00

Item #: C-8 Bridge Escape
Overall Dimensions: 32'w x 18'd x 12'6"h
Weight: 2,580 lbs.
Tower 1: 5' x 5' Deck, Deck Height: 5'
Access: Flat Step Ladder with Hand Rail
Roof: 5' x 10' Canvas with Flags
Tower 2: 6' x 8' Base, 5' x 6' Playhouse with 3' x 6' Porch, Siding, Weatherwood Shingles, 2 Windows with Screens & Shutters
Deck Height: 5'
Access: Flat Step Ladder with Access Railing
Connector: 8' Bridge with Rope
Slide: 10' Avalanche Slide
Swing Beam: 3 Position Single Beam, 2 Position Single Beam
Swings: Baby Swing, Trapeze, Belt Swing, 3 Rope Tire Swing, Fan Back Lawn Swing
Anchors: 2
Fun Item: (2) Binoculars, Ship's Wheel

Heavy Duty Construction - All structural members are preserved wood encased with vinyl. All of our play systems are built with the finest materials available. Our swings feature heavy duty stainless steel corner brackets with a powder coated finish, complete with stainless steel fasteners.

FAQ
(1) Q: Why vinyl? A: Swing Kingdom's vinyl and decking products are the best and most uniform material available in the industry, our vinyl is co-extruded under extreme pressure to assure a durable and beautiful finish for years to come.
(2) Q: How strong is Swing Kingdom's vinyl? A: Our vinyl had five times the tensile strength and four times the flexibility of wood. By combining the performance of vinyl and the sturdy characteristic of Wolmanized Natural Select outdoor wood we create a swing set that is built to last..
(3) Q: Will Swing Kingdom vinyl turn yellow? A: No. Our products contain an extremely effective UV inhibitor that offers more than enough protection from the sun's ultraviolet rays.
(4) Q: Are Swing Kingdom's swing sets easy to maintain? A: Yes. Very easy. If your swing set does become dirty, revitalize its appearance and make it look like new with the use of only a garden hose and some glass cleaner with a soft bristled brush to was dirt and debris away.
(5) Q: Are surface checks and cracks or knotty appearances normal? A: No. Your swing set will have a clean and smooth finish for years to come.
(6) Q: Does our yard need to be level? A: We recommend that your site be as level as possible for the appearance and safety of your system.

*Additional shipping charges may apply to remote areas.
Estimated Shipping Time Frame is 2 to 3 weeks as Swing Kingdom Swing Sets are custom made to order.

Delivery is to residential curbside-a person(s) must be present to sign and help unload the item off the truck. The Freight Delivery company will contact you to schedule your appointment for delivery.
Write a review
Note:

HTML is not translated!