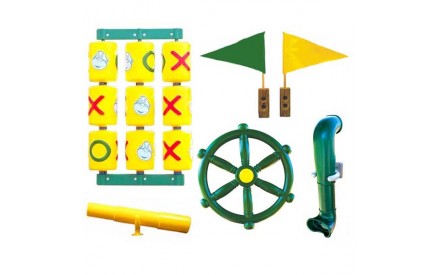 Tower Toys, 5 piece set
Brand:
Swing Works
Product Code:
07-09-236523
Availability:
Out Of Stock
$163.95 & Free Shipping


Residential Spinner Panel Bring more fun and games to your residential playset with the Gorilla Playsets Tic Tac Toe Spinner Panel. This spinner panel can be easily installed on most residential wooden swing sets.
Overall size: 19" x 12" x 3.5", Spinner Size: 3.5" x 4.5" Kit Includes:
9 Multi-Colored spinner cylinders, 3 Powder coated alloy spindles
9 Spacer bushings, 2 Mounting flanges and 8 Wood screws
NOTE: Does not include wood parts. Installation requires (2) wood boards that are 23 3/4" in length.

Flags Kit (each)
Anchor piece with wood dowel, Marine grade vinyl
13.5" high x 22" long
Designed to mount over 7/8" dowel
Hardware not included

Ships Wheel made from Durable polyethylene design, includes Hardware & cover cap included

Telescope, Durable polyethylene design, Clear lens at each end
2 different mounting brackets, 4 wood screws included

Jumbo Periscope, Prepare to dive into a fun time with our Periscope. Our Periscope has a durable polyethylene design and has a set of clear lens and mirror. Easy to install mounting bracket is included.
Write a review
Note:

HTML is not translated!