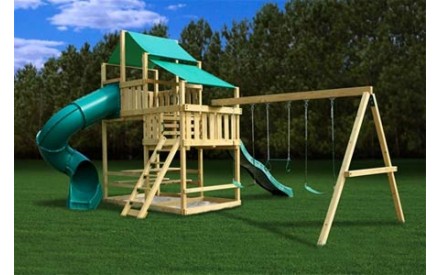 Frontier Fort with swing beam
Brand:
Plan It Play
Product Code:
113-WS
Availability:
In Stock
$529.95 & Free Shipping

The playset is easy to modify and fit almost any slide combination. All of which are available through Plan-it Play. Our patented two-piece swing beam bracketing system makes installation quick and easy. The bracket, made from 7 gauge high-tensile steel, is unsurpassed in strength and like all hardware components carries a one year warranty.
The swings and trapeze bar are rated as 'high-end residential' and should last years in your backyard playground. The plastisol coated bars and chains make for soft easy gripping and won't pinch fingers or tangle hair. This solid structure is supported by six 4x4's - cement, ground anchors and braces are not needed. The deck boards are 2x6 lumber and can easily support the weight of several adults.
Like all Plan-it Play kits the entry ladder is inclined 30 degrees and made from 4x4 and 2x6 lumber, never 2x4's, dowels or 1" lumber.
Bonus features include:
Wide entry area from the lower level to upper level, almost 6 feet!
Two pairs (four) of extra-long safety handles with molded finger grips.
Instructions for adding a picnic table and benches.
Instructions for building with or without slides.
Compatible with all Plan-it Play add-on kits (rockwall, monkey bars, etc.)
Built in sandbox
Approximate lumber cost is $500-550
Kit Includes:
Fort hardware (hot-dipped galvanized)
Swing beam A-frame bracket and hardware (hot-dipped galvanized)
Thirteen ladder brackets with hardware
Two swing belts with plastisol coated chains (yel, blu, or grn)
One trapeze bar with plastisol coated bar (yel, blu, or grn)
Six swing-hangers and spring clips
Two removable marine grade vinyl tarps (grn or blu)
Four safety handles
Step-by-step 3D illustrated manual
*Lumber Not Included
*Slide Not Included
Check with your local lumber yard for apr. costs.
Required Tools
Circular saw, Electric drill w/ philips head bit, 1 ¼" spade bit
7/16" standard drill bit, 5/8" standard drill bit (6'x 6' forts)
Socket wrench w/ 9/16" deep socket
Hammer, Vise grips, Tape measure, Combination square, Extension cord, Pencil, Level
Safety, Finishing and Optional Tools
Electric impact wrench w/ 9/16" deep socket, Hand sander, Router w/ round over bit, Stain/waterproof sealer, Saw horses, Safety glasses, Dust Mask
Frontier Swing Set Lumber Purchase Sheet
Size - - - - - -Qty
4 x 4 x 12 - - - - - 7
4 x 4 x 10 - - - - - 4 -5
4 x 4 x 8 - - - - - 2
2 x 6 x 12 - - - - - 11
2 x 6 x 10 - - - - - 2
2 x 6 x 8 - - - - - 7- 8
5/4 x 6 x 8 - - - - -9 -11

Swing Beam Requirement 4 x 6 x 12 qty 1
4 x 6 x 8 qty 1
4 x 4 x 10 qty 2
2 x 4 x 8 qty 1
Write a review
Note:

HTML is not translated!